You are here

Home
|
Tours and Excursions
|
Ocho Rios, Jamaica
|
Zip Line and River Tubing
Zip Line and River Tubing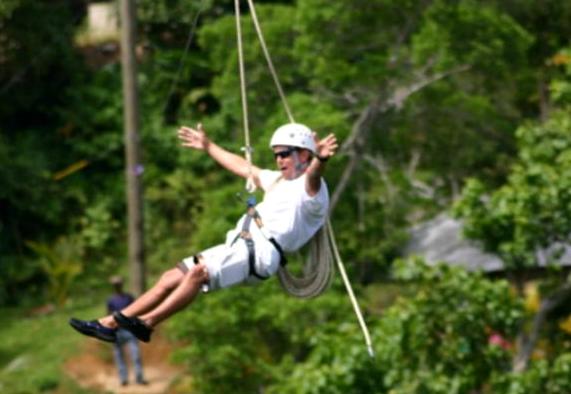 Zip Line and River Tubing
Zip line excitement and cool river water
Departs From:
Ocho Rios, Jamaica
Meeting Point:
Will be advised on confirmation
Duration:
4 hrs. 30 min. (Approx.)
Tour Code:
OCJTO-17
Rating:
Tour Description:
Your Ocho Rios Zip line & White River Tubing adventure begins directly from the Ocho Rios cruise ship pier or Ocho Rios/Runaway Bay resort. Journey into the hills passing through villages, lush vegetation, and locals doing there normal chores.

We now arrive at H'Evans Scent, located over 2000 ft. above sea level with incredible coastline views. H'Evans Scent Jamaica was the first to introduce Zip Lines to the Island and they have stayed ahead of the competition due to there unique offerings.

Upon arrival, you will be met by the friendly staff who will give you your first real taste of Jamaica, a natural fruit drink made from seasonal fruits, served in a calabash cup. Each ride is a different experience, and once you have been harnessed you will receive safety instructions before moving on.

Leap of Faith
Persons are required to climb a staircase. Once on the launch platform, the instructor will give you your final briefing and then you are ready to zip 500 ft, across the valley. You are met on the other side by two members of staff, who will take you off the line and then it is a short walk up hill to the second Zip line.

The Return
Once clipped to the zip line at ground level, you are required to make a short run to the edge of the platform and jump off, this gives you the momentum to traverse across the valley back to where it all began.

The Screamer (Swing ride)
The garden swing ride will definitely leave you screaming uncontrollably. The seat accommodate up to 3 average sized people. Once you are connected safely to the bar, a cable will automatically pull you back until you are 60ft in the air. When the motor stops, one person must pull a ripcord that releases the seat holding all the riders, they then swing 180 degrees through the air until the swing comes to a stop.

Awesome Zip Line
The "Awesome Zip line" runs 1200ft across a scenic valley. To reach the launch platform, after you are attached to the safety line, each guest must climb up the staples (metal steps on either side of the pole) to the platform 50ft in the air. (For this zip you must weigh more than 110lbs and no more than 250lbs). It is a great ride and it gives you the thrill of a lifetime. Once you get to the other side of the valley, two members of staff then take you off the line. A walk up the hillside passing goats and cows leads you to the last and fastest zip.

Speedy
Climb a staircase to about 10ft off the ground. After a safety check, push off holding your legs up as you skim close to the ground, picking up speed as you zip across the scenic valley back to where you left a few moments ago. From here, it's a short walk through the fields past local produce being grown and folks doing their daily washing and cooking outdoors. Your Ocho Rios Zip Line excursion now comes to an end.

We now continue on to famous White River. On your journey to this inviting river you will have the opportunity to view "behind the scenes" Jamaica, while driving through the local neighborhoods of Ocho Rios. Upon arrival at White River, you will find a changing area, life jackets, and a shop.

The thrills begin when you plop down into a tube outfitted with a bottom to begin your breathtaking journey through rushing rapids and placid pools as you continue to drift along the White River which takes approximately 45 minutes. Midway through this aquatic adventure you will have an opportunity to take a breathtaking 20 feet plunge into the deep blue river water while having your photo taken by a member of the attentive White River Tubing staff.

If this is too much adventure for one day, there is a bar nearby where one can enjoy a frosty Red Stripe and relax beside the water. The entire White River adventure lasts approximately 1 hour and 10 minutes, depending on how much time is spent at the midway stop.

Your guide will pick you up at the conclusion of the tubing and take you to a duty free shopping center before returning to your ship or resort. There is also an optional stop at the renowned "Margaritaville" where Jimmy Buffett's "Parrothead" fans love to relax, listening to his beloved songs, while enjoying a water slide, rooftop whirlpool, regular pool, and of course, a swim-up bar for a variety of beverages.