You are here

Home
|
Tours and Excursions
|
Cozumel, Mexico
|
Discover Mexico Park and Playa Uvas Snorkel
Discover Mexico Park and Playa Uvas Snorkel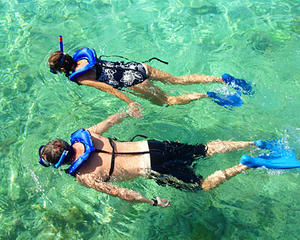 Discover Mexico Park and Playa Uvas Snorkel
Mexican history, art, culture, heritage, food and Snorkel
Departs From:
Cozumel, Mexico
Meeting Point:
Instructions printed on your voucher
Duration:
1 hrs. 30 min. (Approx.)
Tour Code:
CMTO-10
Rating:
Tour Description:
The perfect family combination for your shore excursion in Cozumel. Experience the full spectrum of Mexico's rich heritage, vibrant art, culture, regional cuisine and even tequila.

Upon arrival, you'll relax in air-conditioned comfort as you view Discover Mexico's exclusive four-screen video collage. Vibrant images from all over the Mexico will take you from the Riviera Maya through Oaxaca to Chihuahua.

Next you'll visit Discover Mexico's Museum of Popular Arts; here you will have an opportunity to view works from all over the country, in one location, including the famous "BarroNegro" pottery and the colorful iconic "Alebrijes" from Oaxaca. Trace the evolution of Mexico's ancient civilizations as you tour replicas of ChichénItzá and other pyramids built by the early Aztec, Maya, Olmec and Totonac people. The Spanish colonial era is reborn in the park's reproductions of grand monuments, cathedrals, and the Paseo de la Reforma, Mexico City's elegant boulevard.

After a dose of culture we will take you to enjoy Playa Uvas beach club, the pristine waters of Playa Uvas beach, famous for it´s unbelievably clear water. Discover the rich marine life of the Chankanaab shallow reef in our 30 minutes snorkel guided tour.

Mexican lunch/snack is included in this excursion, and of course the restaurant and bar is available for additional purchases (extra food and drinks are not included). Stay as long as you want on the beach... when ready, take a taxi back to your ship (cost not included).