You are here

Home
|
Tours and Excursions
|
Ocho Rios, Jamaica
|
All-Inclusive Blue Mountain Bicycle tour
All-Inclusive Blue Mountain Bicycle tour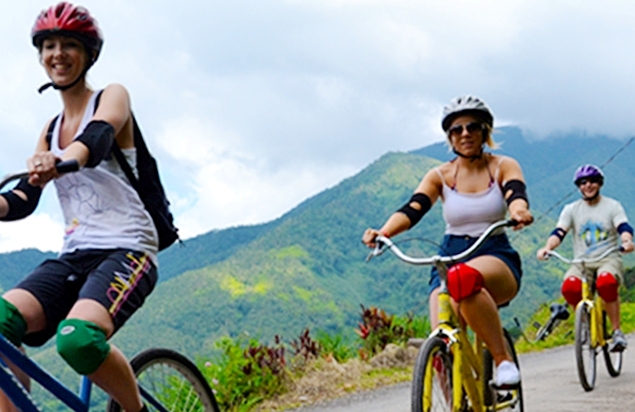 All-Inclusive Blue Mountain Bicycle tour
Discover Jamaica's lush tropical countryside, on a truly delightful bicycle trip, down the mountainsides and rolling hills of Blue Mountain
Departs From:
Ocho Rios, Jamaica
Meeting Point:
Will be advised on confirmation
Duration:
10 hrs. (Approx.)
Tour Code:
OCJTO-02
Rating:
Tour Description:
The Blue Mountain Bicycle Tour is an all day, all-inclusive, downhill bicycle ride, it is a truly delightful bicycle tour, 95% no-pedaling, down the famous Blue Mountain-side. This tour is ideal for anyone who wishes to experience the dramatic world's famous Jamaican Blue Mountains, island culture and lush, tropical countryside - all while riding out on your own bicycle in the fresh Jamaican air.

Along the way, you learn interesting facts about Jamaica's colorful past. Stops are made at historical sites to allow photo opportunities. The drive takes you past local outdoor market areas, and local banana plantation.

The first portion of our tour will give you the rare opportunity to view the historical and rural side of Jamaica, not often seen by many visitors. On the way up to Blue Mountain, We stop at our open air restaurant, one of the most picturesque stops in Jamaica. Where you will have a wonderful Jamaican brunch with a touch of Cajun influence while being briefed about the day's remaining activities.

After Brunch, you'll travel to Hardware Gap, the highest point in the Blue Mountains accessible by vehicle, an impressive 5600 feet up. The Blue Mountain Peak is the highest point in the entire Caribbean, towering at 7,402 feet. From Holywell National Park you'll have a wonderful view of Kingston, so don't forget your cameras. All participants are then fitted with protective gear and bicycles, in preparation for a thrilling yet enlightening downhill ride.

The descend begins! The tour moves leisurely at approximately 5 - 10 miles per hour, a picture-taking tour. There are designated picture-taking stops to allow you the chance at some great shots. While coasting down this part of the mountainside you will experience the beautiful landscape with its pristine streams and waterfalls, misty slopes, varied species of Jamaican birds, wildflowers and plants. Blue Mountain Peak is the home of the celebrated Blue Mountain coffee, one of the world's most rare and expensive.

The conclusion of your blue mountain bicycle tour is crowned with a swim at the pristine, secluded waterfalls; a simple spectacular way to end an already dynamic bicycle tour!

Be sure to bring Tennis Shoes, Camera, Sunscreen, Swimsuit, Towel, and spending money!