You are here

Home
|
Tours and Excursions
|
Ocho Rios, Jamaica
|
Best of Ocho Rios with Lunch
Best of Ocho Rios with Lunch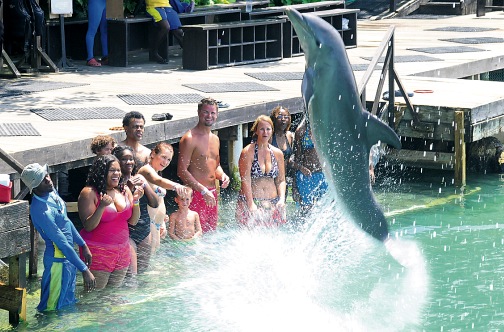 Best of Ocho Rios with Lunch
Swim with Dolphins, Climb Dunn's River Falls & Explore an 18th Century Plantation…all in a day!
Departs From:
Ocho Rios, Jamaica
Meeting Point:
Will be advised on confirmation
Duration:
5 hrs. 30 min. (Approx.)
Tour Code:
OCJTO-37
Rating:
Tour Description:
This one of a kind Jaital exclusive "Best of Ocho Rios" tour begins directly from the Ocho Rios cruise ship port or Ocho Rios resort.

Dunn's River Falls (1hr. 30min.) - Visit world famous Dunn's River Falls, a 600-foot high waterfall cascading over smooth boulders. An experienced guide will lead your climb up the spectacular waterfalls.

Plantation Tour by Jitney & Great House (1hr. 30min.) – Take a tractor drawn Jitney on a historical tour of the Prospect Estate & White River Gorge. Learn the medicinal secrets of local fruits and plants. See local crops like banana, cassava, sugar cane, coffee and various spices.

Great House - Visit the "Great House" & learn the history of how and why this amazing 18th century fort became a "Great House". Take a stroll through the garden.

Lunch - lunch & drink at Yaaman Garden Grill restaurant.

Dolphin Cove Entrance (1hr. 30min.) - Explore the lush tropical forest which is the home to friendly birds, snakes, iguanas and other animals. Visit Little Port Royal Village where pirates roam, view the shark show, see stingrays play, listen to the rhythms of tropical music, Take a ride on the waterslide, relax on pearly white beach, or shop for souvenirs.

AVAILABLE DOLPHIN PROGRAMS (if option is selected):

Dolphin Encounter - Make friends, "Touch" and have an up close experience with the dolphins on a shallow water platform

Dolphin Swim - Swim with ONE dolphin, dance, play, be kissed and playfully caressed by a dolphin while swimming in deep water

Dolphin Royal Swim - Swim with TWO dolphins, enjoy a kiss, foot push, dorsal pull and play time


*Best value for your money… book early to guarantee space!
*Children 5 years and under are free!